Friday, July 31, 2009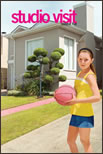 All Regions, All Mediums. Studio Visit, now introducing its fifth competition, is a nationally focused publication that presents all two- and three-dimensional work. Each volume includes approx. 150 artists. Each selected artist will be provided with one full page that will include a full color image, contact information and a brief artist statement. The publication is juried by a professional curator and produced to the highest quality standards and can be used as a valuable promotional tool. Juror: Steven Zevitas, Publisher, New American Paintings.
Once published, Studio Visit is mailed to 2,000 of the nation's top galleries and curators and a growing subscriber base. Additionally, participating artists will receive a complimentary issue of the publication, and they will be able to purchase additional copies at a discount to send to galleries, collectors, friends and family.
The competition is free to enter, however, artists will be responsible for a $225 production/distribution fee if selected. Prospectus: www.studiovisitmagazine.com…
Home Page: www.studiovisitmagazine.com
Opportunity Type: Contests / Juried Shows
Exhibition is Held: Online
Medium: Acrylic, Ceramics, Crafts, Digital, Drawing, Fiber, Glass, Literary, Metalsmithing, Mixed Media, Oil, Other Media, Pastel, Photography, Sculpture, Video, Watercolor


For more information, check the Original Post Here

Brought to you by LebRecord.com. Lebanon Art Magazine